ABOUT THE SMBV1916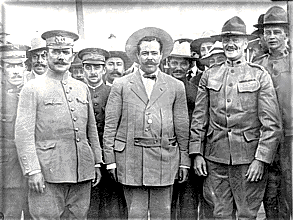 We are a newly founded national patriotic nonprofit lineage society founded IN 2004 IN NEW YORK STATE.
on the principles to honor our Veteran Ancestors of the Mexican Border Crisis and Punitive Expedition
and or War of 1911-1917 as it was known.
To memoralize the memories of our Grandfathers, Uncles who served in call to duty in the defense of our border and country bvy their service in the U.S. Army and National Guard and U.S. Navy. By coming together united as a group of descendants
in keeping GREEN the memory of their lives and services to our country.
We ae currently seeking Members for our Society.

© 2004-2008,
Sons of the Mexican Border Veterans Of 1916 (SMBV1916)
All known said materials are known to be in public domain if noted otherwise please
contact us.