the m exican border service medals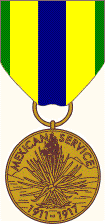 (Mexican Service Medal)
As a token of appreciation, the United States Congress approved the issuing of the Mexican Service Badge, then the Mexican Border Service Medal. Eligibility for the Mexican Service Badge, according to War Department General Order 155, December 1917, was authorized by the President for issue "to all officers and enlisted men who are now, or may hereafter be, in the military service . . . in Mexico as members of the Vera Cruz expedition . . . in Mexico as members of the punitive or other authorized expeditions . . . those who participated in an engagement against Mexicans . . . and those who were present as members of the Mexican border patrol."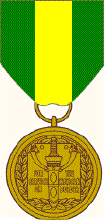 (Mexican Border Service Medal)
(1) Individuals not eligible for the Mexican Service Badge were authorized by Congress on July 9, 1918, to receive the Mexican Border Service Medal. Its purpose was to recognize the National Guardsmen and regular army troops mobilized to patrol the Mexican border between 1916 and 1917.(2)
The Mexican Service Medal was awarded for service in any of the following expeditions or engagements:
a. Vera Cruz Expedition between 24 Apr 1914 and 26 Nov 1914.
b. Punitive Expedition between 14 Mar 1916 and 7 Feb 1917.
c. Buena Vista, Mexico on 1 Dec 1917.
d. San Bernardino Canon, Mexico on 26 Dec 1917.
e. Le Grulla, Texas on 8 and 9 Jan 1918.
f. Pilares, Mexico on 28 Mar 1918.
g. Nogales, Arizona during 1-5 Nov 1915 or 27 Aug 1918.
h. El Paso, Texas, and Juarez, Mexico on 15 and 16 Jun 1919.
i. Any action against hostile Mexicans in which US troops were killed or wounded between 12 Apr 1911 and 7 Feb 1917.
Cited From:
1.War Department, General Order 155, 1917.
2.Albert F. Gleim, Army Mexican Service Medal Issues (1994), p. 1.

© 2004-2008,
Sons of the Mexican Border Veterans Of 1916 (SMBV1916)
All known said materials are known to be in public domain if noted otherwise please
contact us.